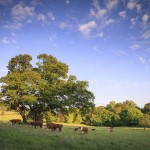 Job Vacancy – Head Stockperson
PLEASE NOTE APPLICATIONS FOR THIS POST ARE NOW CLOSED
Job Vacancy – Head Stockperson
The Estate has recently established a herd of pedigree Hereford Cattle, which currently numbers approximately 35 cows, but will be expanding to around 130 cows within the next 24 months.
We are seeking an enthusiastic stockperson, with aspirations for some managerial responsibility, to join our staff. This is a single handed position with relief labour available when required.
The successful applicant will be experienced in all aspects of suckler cow husbandry, from calving through to finishing. They will be responsible for the day to day running of the herd as well as management of the land. They will be an experienced tractor and telehandler operator, with excellent mechanical skills to maintain the fleet of relatively modern machinery, as most field operations are carried out 'in-house' without the use of contractors.
A cheerful, outgoing personality and a strong work ethic are prerequisites, as are an eye for detail and exceptional organisational ability. Computer literacy is a must, and ideally some working knowledge of 'Farmplan' software, although this is not essential as training will be given if required. Exceptional references will be required and will be rigorously followed up.
A suitable cottage will be made available on the Estate to enable the proper performance of the duties required, on terms to be agreed. Remuneration will be competitive and dependent on experience.
This position will offer the right candidate a fantastic opportunity to take a working management role in a well set up enterprise, and to have a high level of input into this extensively stocked farming operation in a beautiful part of the country.
Candidates should submit a CV and covering letter, by Tuesday 28th June, to:
Mr D.T. Lewis, The Estate Office, The Hean Castle Estate, Saundersfoot, Pembrokeshire. SA69 9AL or estate.office@hean-castle-estate.com
 Candidates should be aware that for the purpose of candidate selection, all applications will be shared confidentially with our advisors, Pentagon Associates Ltd of 62b St James St, Narberth, Pembrokeshire.